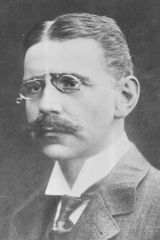 Rudolph Heinrich von Beckerath

born January 20, 1863 in Krefeld, died May 13, 1945 in Wiesbaden, was a German lawyer and civil servant.

Father: Gerhard Benjamin von Beckerath (1827-1871)
Mother: Mathilde Emilie Seyffardt

Rudolf von Beckerath was born the son of the merchant and manufacturer Gerhard Benjamin von Beckerath. After attending high school in Krefeld, he studied law at the University of Bonn and the University of Berlin and received his doctorate. legal PhD. On June 5, 1888, von Beckerath, who was a Mennonite, married Elisabeth Georgine born Wilhelmi (born February 4, 1865). Together they had a daughter.

In 1881/1882 he served as a one-year volunteer with the 1st Rhenish Hussar Regiment No. 7. In September 1902 he left the Landwehr cavalry as a cavalry captain.

In 1890 he passed the second state examination in law and then worked as a government assessor in Trier until 1897. In 1898 he was appointed district administrator of the Dill district, after which he was district administrator of the district of Hanau from 1902 to 1909.

From 1905 to 1909 he was a member of the municipal parliament in Kassel.

In 1909 von Beckerath succeeded Count Kurd von Berg-Schönfeld as police chief of the Hanover police department. In this position he was in contact with the most important local personalities, such as "Major General Voigt as representative of the garrisons" in Hanover, the District President Fritz von Felsen and Hanoverian senators and city school boards.

After the First World War and the November Revolution, von Beckerath recognized on November 9, 1918 "[...] the authority of the Workers' and Soldiers' Council [... and] assured him of the loyalty of the security police". But that was only due to the circumstances: he also acted in the Weimar Republic...

"[...] conservative in the general sense of the word. During his almost 20 years as chief of police in Hanover, he never dealt with party politics. After the overthrow, endeavored to preserve the proven principles of the Prussian administration in the face of the ruling parties' desire for reorganization."

In connection with the investigation of the murders of the mass murderer Fritz Haarmann, von Beckerath ordered in 1925 "[...] a major search operation for Pentecost. The water level of the Leine was lowered and the river was systematically searched" where, among other things, human bones were found.

On April 1, 1928, von Beckerath retired when he reached retirement age. He was followed by Erwin Barth (SPD).

In 1943 von Beckerath moved from Hanover to Halle (Saale). Most recently he lived in Frankfurt-Höchst. Shortly after the end of the Second World War he died in a hospital in Wiesbaden.


Literature:

Georg-Wilhelm Hanna (Bearb.): Der Landkreis Hanau und seine Landräte. Editor: Kreissparkasse Hanau. Hanau 1989, S. 25.

Thomas Klein: Leitende Beamte der allgemeinen Verwaltung in der preußischen Provinz Hessen-Nassau und in Waldeck 1867 bis 1945 (= Quellen und Forschungen zur hessischen Geschichte. Bd. 70), Hessische Historische Kommission Darmstadt, Historische Kommission für Hessen, Darmstadt/Marburg 1988, ISBN 3884431595, S. 92.

Jochen Lengemann: MdL Hessen. 1808–1996. Biographischer Index (= Politische und parlamentarische Geschichte des Landes Hessen. Bd. 14 = Veröffentlichungen der Historischen Kommission für Hessen. Bd. 48, 7). Elwert, Marburg 1996, ISBN 3-7708-1071-6, S. 67.

Nassauische Parlamentarier. Teil 2: Barbara Burkardt, Manfred Pult: Der Kommunallandtag des Regierungsbezirks Wiesbaden 1868–1933 (= Veröffentlichungen der Historischen Kommission für Nassau. Bd. 71 = Vorgeschichte und Geschichte des Parlamentarismus in Hessen. Bd. 17). Historische Kommission für Nassau, Wiesbaden 2003, ISBN 3-930221-11-X, Nr. 24.

N.N.: Rudolf von Beckerath. In: Hannoversche Köpfe aus Verwaltung, Wirtschaft, Kunst und Literatur, Bd. 1. H. Osterwald, Hannover 1929. The texts are not named as authors, and there are no page numbers in the book.

Dieter Pelda: Die Abgeordneten des Preußischen Kommunallandtags in Kassel 1867–1933 (= Vorgeschichte und Geschichte des Parlamentarismus in Hessen. Bd. 22 = Veröffentlichungen der Historischen Kommission für Hessen. Bd. 48, 8). Elwert, Marburg 1999, ISBN 3-7708-1129-1, S. 9.

Dirk Riesener: Die Polizeidirektion Hannover. Gesellschaft, Industrie und Polizei vom Deutschen Reich bis zur Bundesrepublik Deutschland. Hahnsche Buchhandlung, Hannover 2006. ISBN 3-7752-5926-0, insb., 269.